Girls Group changes the narrative on generational poverty.
Girls Group helps participants to stay in school, develop a college mindset, graduate from high school, become first-generation college students, and create lives with successful careers and healthy relationships. Our 20-year history clearly demonstrates that involvement with Girls Group changes the trajectory of a student's life, and positively impacts future generations.
The statistics are daunting. Almost 30% of students who are either low-income or students of color, will not graduate from high school. And, students who drop out of high school are 150% more likely to live in poverty than their peers who graduate. Over the last 20 years, 100% of participants actively involved in Girls Group have defied the odds and graduated from high school.
Education is one of the most effective tools to break the cycle of poverty. According to research, 90% of millennial adults who complete at least a high school education and get a full-time job are not poor when they reach adulthood. These two milestones are the foundation of the Success Sequence. Youth from disadvantaged circumstances who are able to follow the sequence, or part of the sequence, are more likely to have a higher quality of life, overcome obstacles, and achieve economic self-sufficiency (Institute for Family Studies, 2022).
There are many reasons students don't graduate from high school, pursue secondary education, and achieve gainful employment. Educational systems are not always reflective or supportive of socially and economically disadvantaged students. Students' home and school environments impact the likelihood that they will graduate from high school. Family circumstances may make it difficult for students to meet the demands of school, teachers often do not have the time or capacity for intensive one-on-one support for students, students may lack motivation or interest, or the school environment may not be safe for the student.
We believe that through educational and financial empowerment, Girls Group participants can show the world that even the most disadvantaged students, when given permission and support to succeed, can defy the odds and realize their dreams. Shifting this mindset at an early age is critical to ensuring all young women have equal opportunity to get to and through college, and ultimately reach emotional and economic self-sufficiency.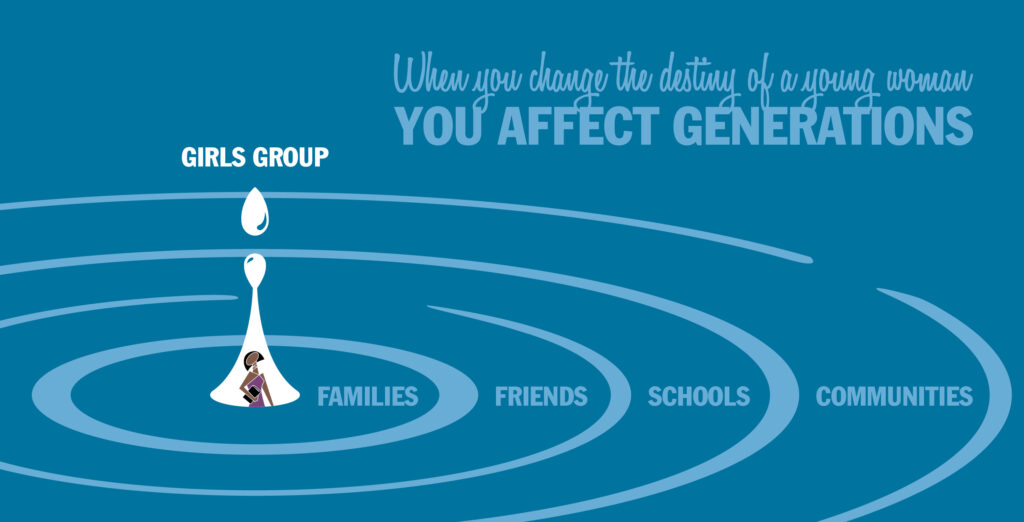 We address root causes of poverty on a daily, year-round basis, and provide students with the mentors, motivation, tool kits, and action plans needed to succeed in their college and career journeys. The Girls Group College & Career Readiness Format provides comprehensive and holistic support for participants across important life stages. We utilize the Developmental Relationships Framework to establish long-term positive mentoring relationships. Developmental relationships help youth with setting and reaching goals, higher academic motivation, stronger civic engagement, leadership and life skills (Search Institute, 2022). Girls Group participants are strong, empowered, young women, who, with the right support and resources have the potential to impact generations through educational attainment.
In their own words
"Girls Group helped me to make positive friends. They were a second home for me where I could go for advice. I learned that life is what you make of it."