Girls Group provides year-round comprehensive group and individual mentoring at 21 program sites in schools and in the community. The mentoring relationship helps young women discover who they are, shape their lives, and learn how to engage with and contribute to the world around them. Programming activities are designed to teach problem-solving, decision-making, and leadership skills that are critical to navigating the challenges of growing up. Building on this foundation of belonging and life skills, participants set and reach goals, specifically graduating high school and getting to and through higher education.
Participants are referred to Girls Group by teachers, counselors, principals, community members, family members, or participants who are already in the group. Many of our participants say that they initially come to the programs for the free pizza, but stay for a lifetime because of the sisterhood they develop with Girls Group.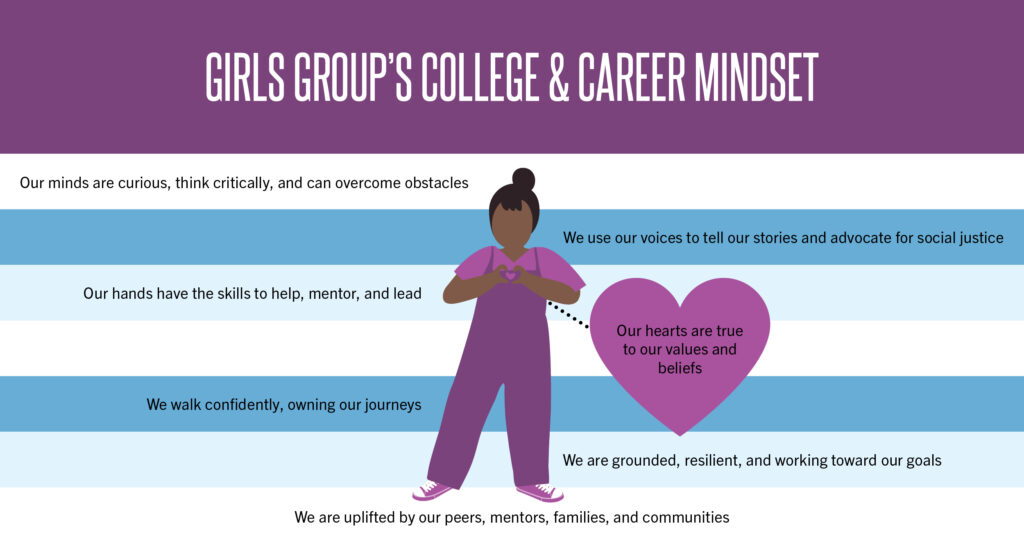 Our participant centered model is foundational to building a vibrant community of support for participants. Girls Group works with each system of a participant's life, including staff, peers, families, schools, and communities. We work collaboratively with these systems to support a participant-centered model of engagement meeting participants "where they are at."
All programs are planned, developed, and implemented by highly-trained, talented, and compassionate Girls Group Mentors. A mentor is an adult who can either be a staff member, intern, or volunteer. Girls Group's effectiveness is, in large part, due to long-term and supportive mentoring relationships, which begin in middle school, and carry through into high school and college.