Girls Group 2022 Virtual Annual Fundraiser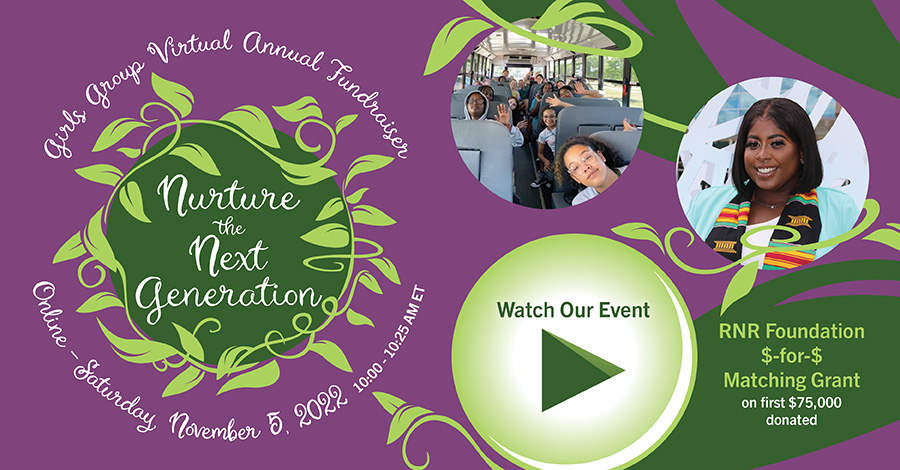 Join Our Free Online Event on YouTube
Event Program
Saturday, November 5, 2022
10:00 – 10:25 AM ET
Pre-Event Slideshow Begins at 9:45 AM
Program Begins at 10:00 AM
Welcoming Remarks
Jennifer Brents (Girls Group Program Manager)
Girls Group Video Spotlight #1
Alex Cash (Girls Group Alum)
The State of Girls Group
Sue Schooner (Girls Group Founder, Executive Director)
Recognition of Staff
Kepriah Davis, Isabell Jazwinski, and Jonjalyn Winchester (Girls Group Staff Members)
Girls Group Video Spotlight #2
MSU 4-H Exploration Days with Saran, Simone, and Emma (Girls Group Participants)
Closing Remarks
Jennifer Brents

Rooted in Empowerment, Effective Environment, & Positive Relationships
Girls Group builds lasting relationships with the young women we serve. We meet them in the 6th grade and guide them through middle school, high school, college, and career.
Girls Group provides an array of services, including academic support, mentoring, career guidance, and job readiness experiences (career exposure, job shadowing, and networking opportunities). Girls Group offers participants the tools necessary to become self sufficient—along with the long-term support to nurture that success for future growth!

Girls Group Currently Serves Over 700 Participants in Washtenaw County
Weekly programs at 20 sites within the public schools during the school year
Eight weeks of summer enrichment (weekly discussion groups, college and career exploration, and field trips)
College & Career Prep (one-on-one mentoring and workshops to promote readiness)
One-on-one mentoring and peer support for young women on their college and career journeys
NEW Family Engagement program—to further strengthen our relationship with parents and guardians in support of their child's middle school, high school, college, and career journeys
Donate Today to Help Us Grow, Flourish, and Deepen Our Roots
Donate to Girls Group
Make a difference by making an optional donation today. Note that making a donation does not register you for the event.
Become a Girls Group Sponsor
Donations of $1,000 or more (during the course of the year) are gratefully counted toward sponsorship of our virtual Annual Fundraiser, where you will receive special recognition.
Consider joining our Grand Circles of Giving.