Welcome to my second jewelry fundraiser for Girls Group. The response to last year's fundraiser was amazing and I thank everyone who participated from the bottom of my heart.
My husband and I have been members of the Girls Group family for many, many years. We have seen Girls Group grow from a few dozen young women to the 700 participants it has today. Amazing, simply amazing. We continue to be in awe and are inspired by the young women and Girls Group staff as they consistently rise to meet the challenges of growing and overcoming the many hurdles placed in front of them.
The work Girls Group undertakes in and for our community is important. And, it enriches us all. Your generous support of Girls Group ensures their work doesn't stop and that even more young women can live the benefits of the Girls Group programs.
Designing these pieces and offering them to Girls Group as a fundraiser is my way of saying "Thank you" to my dear friend, Sue, the staff at Girls Group, and the many young women who have brought enrichment to my life. It is also my way of thanking my mom for the guidance and nurturing she gave me as I was growing up. Trust me when I say that I was not an easy kid to raise.
Just like last year, 100% of the "price" of the pieces goes to Girls Group. My "return" is knowing that the Girls Group programs can continue. Because Girls Group is all about challenging yourself and boldly going forward, I decided that I, too, should challenge myself when designing the new pieces for 2022. This year's collection includes bold and delicate designs, bright and soft colors, and serious and whimsical pieces. I hope you enjoy viewing this collection. And thank you in advance for your generosity to Girls Group.
---
The Girls Group message knows no geographic boundaries. While on a recent vacation, I spotted some jewelry pieces that were being offered for sale in the hotel lobby where I was staying. I started chatting with Jennifer, who along with her sister, Natalie, design and create the pieces I was enthusiastically admiring. One thing led to another and I told Jennifer about my fundraiser. She was so touched by the information I shared about Girls Group that she removed a beautiful pearl necklace from its display stand, handed it to me, and asked that it be used to benefit Girls Group, on behalf of herself and her sister. A few days later I had the privilege of meeting Natalie in person. To say it was a privilege to meet these two women is an understatement. I am delighted that their necklace is part of this fundraiser. The necklace is included as Item #31.
From Jennifer Domingsel and Natalie Ball, Simply Pearls Kauai:
"We chose to donate to Girls Group because it has a beautiful meaning for the girls and women of our future. This organization is unbelievable and only wish that this was offered to all girls around the world! We know without a doubt this would benefit our community as well! We personally have young women in our lives that have struggled especially during the middle school years and just know an organization like this would have made a world of difference! Thank you for a being a blessing to women of our future."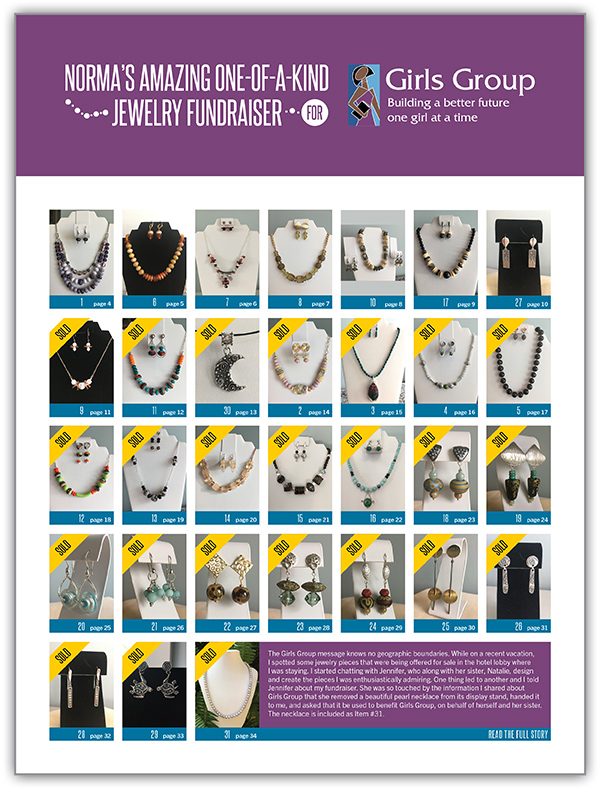 How to Make a Donation to Order Jewelry
Sales are first come, first serve. Email Maggie Chen at Maggie_Chen@GirlsGroup.org to indicate your interest in ordering a piece and check to see if it is still available. Please provide Maggie with your mailing address for shipping.
If your desired piece is still available, please make the appropriate donation amount online at GirlsGroup.org/Donate-Now to complete the order. Maggie will mark the piece as sold on the brochure.

Girls Group is a 501(c)(3) nonprofit organization. Your order is for goods/services/time/creativity donated by Norma Calder, and she does not sell her jewelry through any other venue. Amounts paid in excess of FMV are tax deductible. Please consult your tax advisor.

Girls Group will mail in approximately one week after purchase and insure your delivery for at least the purchase price.
Thank YOU for Supporting Girls Group
Special Thanks to Norma for Your Creativity and Generous Heart
Event Starts
Thu, Nov 17, 2022
at 3:40 PM
Event Ends
Sat, Dec 31, 2022
at 11:59 PM